What We Believe
What We Believe Scripture Says
Before you decide to become a member of any local church, you need to know what the church believes theologically. The following is a brief explanation of Central's core beliefs. All of our beliefs are taken directly from Scripture.
The Bible – The Bible is the Word of God. We believe that it is God's revelation of Himself to man. We believe that God is the author and that He divinely inspired human writers to write down His thoughts. We believe the Bible points to Jesus in its entirety. We believe the Bible is without error in the original manuscripts and has been divinely kept through human translation throughout history. We believe the Bible is sufficient and contains all we need to know about Jesus. (Exodus 24:4; Jeremiah 15:16; 2 Timothy 3:15-17; 2 Peter 1:19-21)
God – We believe that there is one God and He exist in three persons called the Trinity. The three persons of the Trinity are God the Father, God the Son, and God the Holy Spirit. These three persons are all equally God, but have different roles. (Genesis 1:26; Deuteronomy 6:4; John 1:1-18; Romans 8:16)
Man – Man is a special creation of God. He made man different from the rest of creation in that He created man in His own image. He created male and female, thus gender is a gift from God. In the beginning man was innocent of sin, but man made a choice to sin against God. Now all of creation is cursed because of the original sin. We believe because God made man in His image that all human beings possess full dignity and are worthy of respect. (Genesis 1:26-30; Romans 1:19-32; 3:10-18, 23)
Salvation – Salvation involves the redemption of the whole man, and is offered freely to all who accept Jesus Christ as Lord and Saviour, who by His own blood obtained eternal redemption for the believer. In its broadest sense salvation includes regeneration, justification, sanctification, and glorification. There is no salvation apart from personal faith in Jesus Christ as Lord.(Genesis 3:15; Romans 10:9-13).
The Church – We believe the church is a local body of believers connected by covenant in the faith and fellowship of the gospel. These believers have spiritual gifts which work together to fulfill the Great Commission that Jesus has given us. (Matthew 28:19-20; Acts 2:41-42)
Baptism – We believe that baptism is something that believers do in an act of obedience. Baptism symbolizes the believer's faith in the death, burial, and resurrection of Jesus Christ our Lord. We believe that baptism is by immersion and that one must be baptized before becoming a member of the local church. (Matthew 3:13-17; Acts 2:41-42)
The Lord's Supper – We believe the Lord's Supper is a symbolic act where members of the local church break bread together to memorialize the death of our Lord and Savior and to anticipate His second coming.(Matthew 26:26-30; 1st Corinthians 10:16-21)
Last Things – God in His own time and own way will bring this world to its end. Jesus has promised to return personally and visibly. The dead will be raised and all men will be judged in righteousness. The unrighteous will be consigned to Hell forever. The righteous will receive their resurrected bodies and will dwell with Christ forever. (1 Thessalonians 4:14-18; Revelation 20:11-15)
Marriage – We believe marriage is a lifelong covenant between one man and one woman. We believe that a husband and wife are equal before God in their perspective roles. We believe a husband is to love his wife as Christ loves the Church. We believe a wife is to submit to her husband as the Church submits to Christ. (Genesis 1:26-28; 2:15-25; Matthew 9:3-9; Ephesians 5:21-33)
This doctrinal statement was adapted from The Baptist Faith and Message 2000. You can read the message in full at the Southern Baptist Convention's website:
About Our Leadership
Clay Jones, Senior Pastor
Jeremiah writes what the LORD declares, "Let him who boasts boast in this, that he understands and knows me." The Lord, in and by His goodness, has allowed me to know Him! That is the greatest thing I can tell you about me. The next greatest thing is that I have a wonderful wife named Mallory. She is truly my best friend, and I love doing life and ministry with her.
I am currently pursuing a PhD in Preaching at Southeastern Baptist Theological Seminary and plan to graduate in December 2023. I previously received a Master of Theology (ThM) in Preaching and Master of Divinity (MDiv) in Preaching and Pastoral Ministry, also at Southeastern. I served five years as Missions Pastor and four years as Student Pastor at Central Baptist Church before becoming a Transitional Pastor at Antioch Baptist Church in Blacksburg, SC. The Lord led me back to Central in the fall of 2021 to serve as Senior Pastor. Central is my eternal family whom I love and am willing to lay down my life for to see their progress towards maturity in Christ.
In my spare time, I love to cook for others, read, write, workout, play cards, and golf on occasion. I also love crazy, spontaneous adventures with my wife. We never have a dull moment together! If you are reading this and wish to learn more about Central, feel free to reach out to me anytime. My wife and I would love to get to know you over dinner one evening!
Justin Garrett, Worship Pastor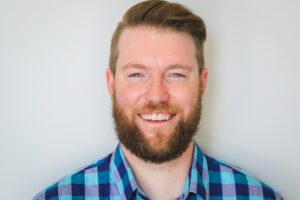 Justin was born and raised in Chesnee, SC. He received a BA degree from North Greenville University in Church Music Praise and Worship.
Justin enjoys cutting grass with his daughter. He also enjoys the Saturdays where he can spend the day with his family, whether at home being lazy or out on an adventure. He enjoys a round of golf when he gets the chance and finds satisfaction in fishing…though he has only successfully caught one fish in his life! We're thankful that Justin is much better at being a fisher of men than an actual fisherman. Justin doesn't get much time to refine his golf swing or fishing techniques since he is the head chef of his family. Justin cooks about every meal for their family and loves doing it!
My favorite thing about worship ministry is watching those on the worship team and in the congregation transition from singing songs in a worship service to fully connecting with a living Savior that died for them, loves them, and wants to know them. You can see and feel the difference when the hearts in the room begin to connect with God.
Joel Babcock, Youth & Associate Pastor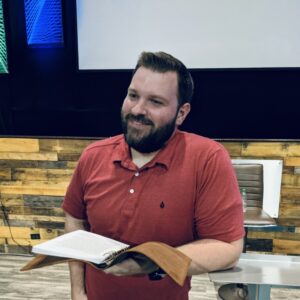 Joel is our youth and associate pastor at Central. He has a passion for reaching young people and discipling them in God's word, helping them understand the purpose they have in Christ. By growing in their faith and learning how to pass it on to others, they can become the Fishers of Men God has called us all to be.
Joel is married and has two small children who he adores. He has many various interests including video games, movies, building and improving PC's, lifting weights and Clemson Football. He also enjoys hosting movie nights for youth and college students, and introducing them to the "classics" like Gladiator and Inception.
Joel earned his Bachelors in Architecture from Clemson University in 2011. He has faithfully served as a teacher and mentor for youth for the past decade in various roles including Sunday School teacher and small group leader. He naturally rose to the challenge of Youth Pastor, continuing to pursue the calling God placed on his life.
C
arol Baca, Administrative Assistant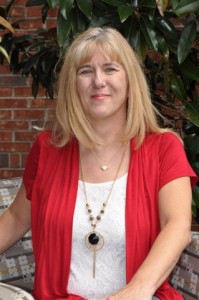 Carol is the warm welcoming voice you will hear when you call our church. She has a heart for ministry and has served Central since 2007. She is very helpful in assisting our pastors in their ministries. She loves the Lord with all her heart and enjoys serving Him in whatever He leads her to do. She is a graduate from Spartanburg Community College in Computer Science and Business. Her favorite Bible verse is John 14:1-3, " Let not your heart be troubled; you believe in God, believe also in me. In my Father's house are many mansions; if it were not so, I would have told you. I go to prepare a place for you. And if I go and prepare a place for you, I will come again and receive you to Myself; that where I am, there you may be also. Contact Carol at Carol Hyatt